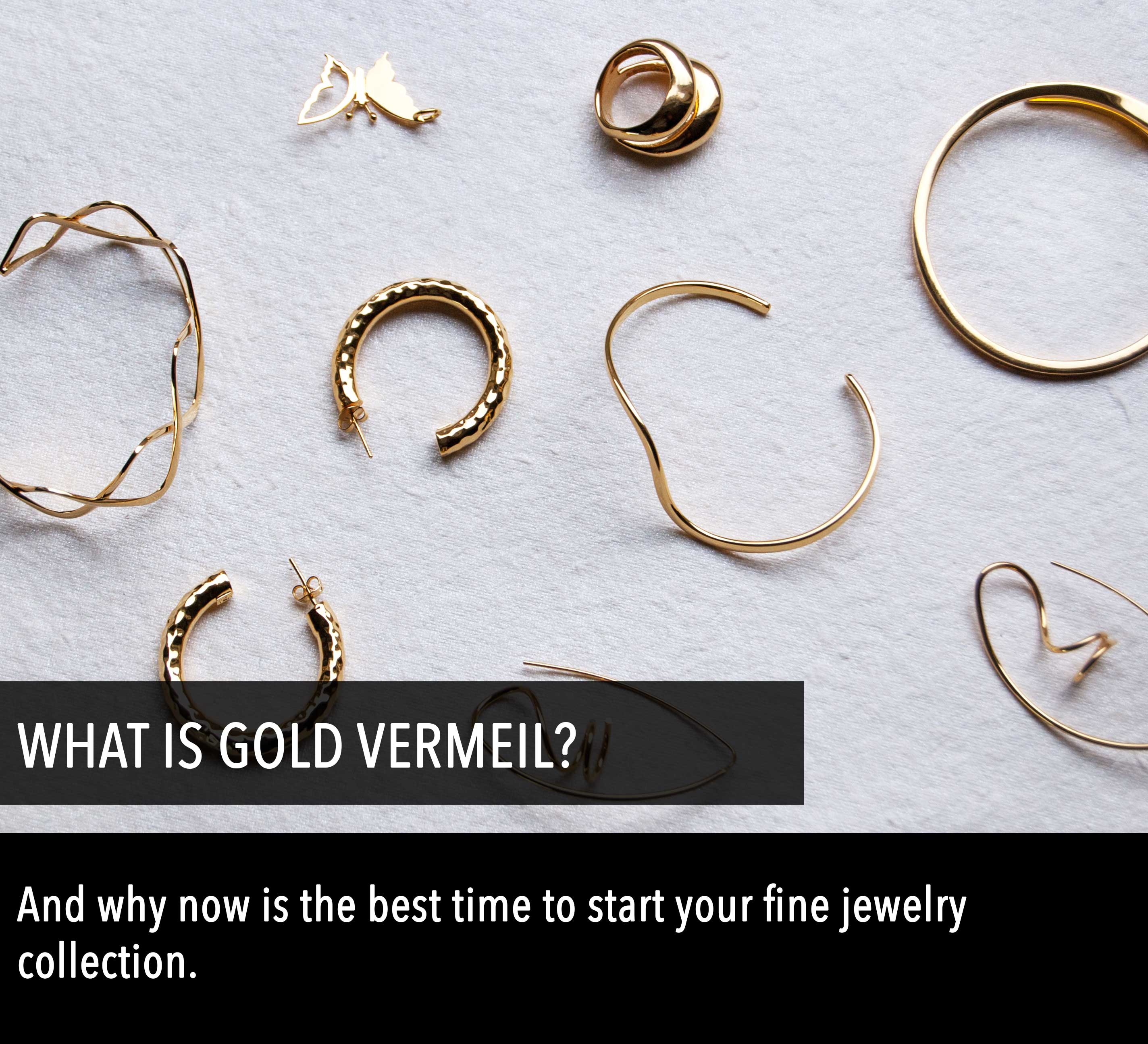 What Is Gold Vermeil Jewelry?
In today's fast fashion "see now buy now" world, it is easy to end up with a pile of cheap jewelry over the period of few years which has zero value. Sometimes many pieces of fashion jewelry contain very high levels of unsafe chemicals such as lead, chromium, and nickel, not suitable for children and people with skin allergies.

Cheap metal jewelry is usually plated with a thin layer of gold, barely dipped in the gold solution which will tarnish in just 2-3 months and also disintegrate and fall apart if re-plated.
Different types of metals and plating used in jewelry can be extremely confusing. Today, vermeil is the choice of most fashion savvy women as it is making big waves in the designer jewelry industry for its unique balance of cost and quality. With a bit of knowledge and proper education, now is the best time to create the fine jewelry collection that you and your family will treasure for years.
HOW TO PRONOUNCE VERMEIL?
Pronounced as vur - MAY,
letter "L" is silent 
WHAT IS GOLD VERMEIL?
Gold Vermeil is not your average gold plating. The Trade Standard for vermeil is a piece of jewelry consisting of at least 92.5% sterling silver base metal coated with at least 2.5 microns, (0.0025 millimeters) of 14k, 18k or 24k gold.
In Vermeil jewelry, the thickness of the gold coating is much more substantial than that of gold plated-jewelry ensuring deeper, long-lasting color and excellent durability.

At Veatge, our gold vermeil jewelry is plated with 2.5 microns of 18k gold on 92.5 sterling silver base. 
GOLD PLATED VS. GOLD VERMEIL
Gold plated jewelry may contain steel, brass or copper base whereas gold vermeil jewelry always has 92.5 sterling silver base. There is a minimum requirement for vermeil jewelry to be at least 2.5 microns. It is advisable to buy jewelry from companies who list specific material used as base metal rather than just listed as "base metal."

There are no such requirements for gold-plated jewelry. Their plating can vary in thickness, and no minimum value needs to be met for a piece of jewelry to be sold as gold plated.


DOES GOLD VERMEIL CAUSE SKIN ALLERGY?
It depends on your body chemistry, the climate you live in and how often you wear your jewelry. Nickel causes most skin allergies; if nickel is used during the plating of your jewelry, it can cause an allergic reaction. It is always important to read the product description or check with the manufacturer whether Nickel has been used during plating of the jewelry.

At Veatge, we always opt for nickel free plating for our vermeil jewelry. Our 18k gold vermeil jewelry does NOT contain nickel and is safe for people with metal allergies. Also, the base metal used in our jewelry is sterling silver which is safe for people with skin allergies.


HOW LONG DOES GOLD VERMEIL LAST?
Gold vermeil will last much longer compared to any other plating as it is the most expensive form of plating in the world. Sometimes, it will last for many generations with proper care. If you are showering, exercising and swimming with your gold vermeil jewelry every single day, it might lose its luster within few months. However, it can easily be re-plated. Earrings and necklaces will keep their plating longer than rings.


HOW TO CARE FOR GOLD VERMEIL JEWELRY?
Always store your gold vermeil jewelry in an airtight container when not in use.
Remove before applying perfumes, lotions, or before bathing in a pool or hot tub. Chlorine, especially at high temperatures, can damage or discolor your vermeil jewelry.
To clean gold vermeil jewelry, gently buff with a soft and dry cloth. Microfiber cleaning cloth for lens and eye glasses are the best.
Never use chemical cleaners or silver polishing cloth on vermeil jewelry, it can strip the gold finish.  
WHERE CAN I FIND GOLD VERMEIL JEWELRY?
At Veatge we are extremely transparent about the materials we use in each of our jewelry. Our jewelry is handcrafted with sterling silver and a solid layer of 18k gold vermeil. Our Gold vermeil jewelry is free of nickel and safe for people with metal allergies, the plating is done right here in the USA with manufacturers who have been in business for 70+ years. Some of our gold vermeil jewelry has been a crowd favorite, and we can barely keep in stock.
Gold vermeil jewelry is different from gold filled jewelry, which we will discuss in a separate blog post by comparing different metals.
Below are some of our most popular gold vermeil jewelry. Let us know in the comments below if you have any questions regarding our gold vermeil.
Petite Butterfly Pendant in Gold Vermeil
Two Dome Ring in Gold Vermeil
Abstract Wire hoops in Gold Vermeil
Crossover Bangle in Gold Vermeil
Hammered Hoops in Gold Vermeil
Gentle Curve Cuff Bracelet in Gold Vermeil