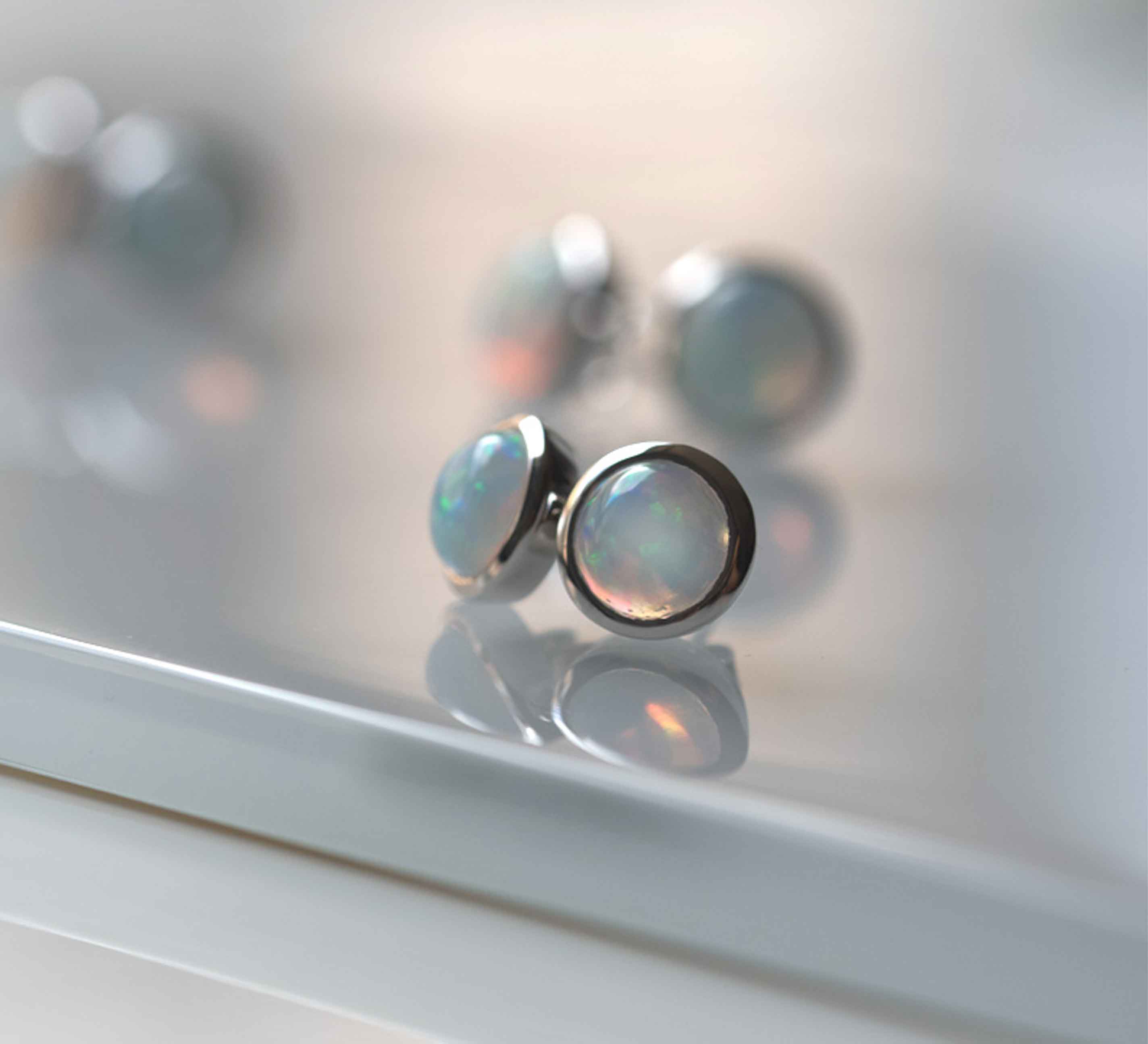 Opals - natural vs synthetic
We love Opals in any form - natural as well as synthetic. We introduced a few pieces of large lab opal jewelry early on when we launched the business due to the high recommendation from one of our founders. We were surprised at how quickly they sold out. They have been one of our best-selling earrings studs since then.

Opal originates from the Greek word "opallios" which means seeing a change of color. The word "Opal" also has its roots in Latin and Sanskrit. Opal is hydrated silica without a proper shape or form and a bit softer than quartz. Opals by far remain one of the most popular stones amongst women and jewelry lovers because of its change in color and its versatility.

Opal jewelry can be worn for all occasions. It's wise to think about what you are wearing of course because a dark or black opal will stand out nicely against a light background and a white or crystal opal against a dark background. But if it's worn against your skin, either will look good.



There are more than 15 varieties of different types of Opals found in different parts of the world from Crysta opal to Mexican fire opal to Australian black opal.

One of the biggest reason the lab opals are so popular today is that of the affordability and maintenance factor of these fascinating gemstones. Since natural opals have a quite large amount of water in it, if it becomes dehydrated, it can develop tiny fractures called crazing. Crazing will lessen its beauty, and also makes them less durable. Natural opals in the smaller size, however, are more durable than the large ones.

Synthetic lab opals, on the other hand, are not prone to cracking. Synthetic opals are made in a way that they are taken from opaline silica and then grown in a laboratory. This is a two-year long process, and this slow growth helps to make a stronger structured opal. These lab-created opals are relatively more affordable than the mined ones, there is no special care needed for them. It can be worn every day just as your regular gold earrings, even in the shower and in extreme heat. 
Here is a review from an actual customer - - "I purchased these lab opals for earrings to go with a natural opal pendant, because I didn't want to have to worry about make up, hair spray, water, etc damaging delicate natural opals for earrings. These look great! They are well made, have good color, and look very classy. Wonderful purchase for the price I paid for it, couldn't be happier!"
A natural opal in this size can be huge and pricey. But if you are buying opals for investment purpose, we say go for natural ones.

Unless you are buying a large Opal for investment purposes, find the stone you admire and enjoy it simply for the everyday pleasure it brings!
Find some of our best selling Opal jewelry -
Click on the image to browse the product